Save $5 on every $20 spent on etsy or ichigoblack.com for 1 week only! ^ U ^

Coupon code: ooducky

And, as always... you should add us on facebook for updates and special deals ^_~




From now till the end of the year, as a part of our holiday sale, all hats on our etsy accessories account, Decora Candy, are 30-50% off!!

Our new claw scarves are also listed there. We've added a lot more since the last post ^_~ We also take requests if you have a favorite color or animal.. just send us a message through etsy or ichigoblack.com :)

And, as always... you should add us on facebook for updates and special deals ^_~




From now till Monday, as part of the Thanksgiving weekend sale, save $10 on all orders over $50! (coupon code: cm10)

Our new claw scarves are now available online!!! We also take requests if you have a favorite color or animal.. just send us a message here or through ichigoblack.com :)

These make perfect gifts for friends, that someone special, and especially as a small treat for yourself to ensure you stay warm this winter ^_~ They're ultra soft, fuzzy, and just about the best scarf you will ever own...!

We've also got lots of other fuzzy winter gear. Hats from our new DC Revolution collection should be available online shortly ^^

You can also find lots of goodies in our etsy stores: Ichigo Black and Decora Candy.

And, as always... you should add us on facebook for updates and special deals ^_~


Amigurumi Bunny Necklace! Charm is 1 1/2" tall.
http://www.etsy.com/shop/amitowncreatures
http://amitowncreatures.com
(
More items..
Collapse
)
I was formerly MisfitCreatures, but have now made the switch to AmiTownCreatures. It's the same type of items (amigurumi) but with a new sort of feel to them. Less weird monster feel and more cute bunnies and guinea pigs. Anyway, I just wanted to reintroduce myself and let you all know where my new shop is:
http://www.AmiTownCreatures.com
and
http://www.etsy.com/shop/amitowncreatures
Here's a picture of a bunny I've recently made:
Hey guys!
Anyway, this is what I've gotten finished and listed so far:
(
Pics after the break!
Collapse
)
Is that enough for you guys? Probably not. :) But it's a good start to July! Go check it out!
I have been a busy bee the last few weeks! I finally got some pictures uploaded only to break my camera like a tard. Lame. So since I have to send it back, I probably won't get any new stuff listed for a week or two.
new illustrated Alice in Wonderland tea party doily set~! :D
The current
Warning Label fan contest
runs until July 4th at 11:59 pm MST. The goal is to refer fans on Facebook, and then get your newly referred fans to post on my wall that YOU sent them. The person with the most referrals at the end of the contest wins a custom bag of their choosing from my shop.... The two runners up will also get some goodies! You have plenty of time to win, so get cracking! As of right now I only have two entries!
This week I listed some brand new bag styles, the
Behemoth
- a giant laptop messenger bag with room for books, supplies, peripherals, and your laptop of course....
And
Valkyrie
, a slouchy hobo tote made from soft buttery faux leather, dressed up in chains and sexy skull brocade.
Check them out in the shop:
http://www.warninglabelcreations.com
Also,
TOMORROW, 06/17/2010 is TNT
! I haven't participated in a while, so I went to the trouble of having a big sale for you guys. 10% off all bags, even the new ones, and 50% off kilts! Get your butt in a comfy, kickass kilt for the summer.
That's all for this week! I better see more entries for the contest, stat!
Hey everyone! It's that time again.... CONTEST TIME!
Aaaaaand, gnomes.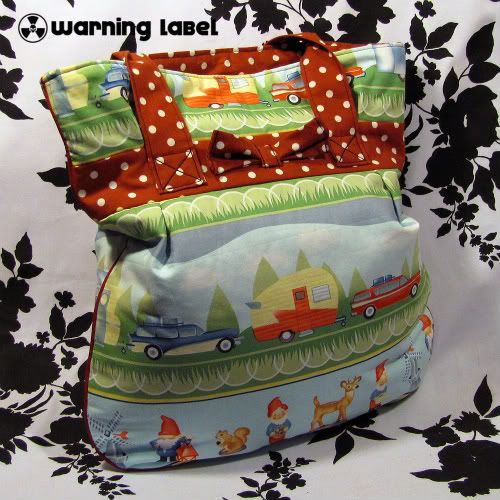 That's all for now! Stay tuned for more, and check out
Warning Label Creations on Facebook
for more pictures, contests, and upcoming sale alerts!
Introducing Valkyrie, Warning Label's newest style. A slouchy soft hobo bag made from buttery-soft costume pleather, silky smooth silver and black satin brocade, and tons of metal and chains.